Behind The Name - Travisto
Much like a koeksister on a Sunday morning, the name Travisto and FuggitDrukaNommer have become a household staple in recent years! But what are the origins of this beam of light and incredible mal force to be reckoned with? Always curious to know what goes on in the mind of those who create such beautiful energy with music, I made it my mission to chat with Travers Solomon aka Travisto aka one-third of Ou Smiley.
Having grown up to the sounds of jazz and soul records, Travisto's appreciation for good music began at his Walmer Estate family home. His parents would host get-togethers, "Pops had a mal sound system and was known for his record collection, so "The Boys" would be at our house - weekend nights - playing music and hanging out." Travisto fondly recalls his uncle gifting him with a portable tape recorder for his birthday, along with "a copy of the mal cassette we listened to when we were driving to camp at Soetwater." He attributes having access to impeccable music at a young age to his appreciation for music soaring. "When you're around this calibre of music from birth, you're mos bound to appreciate the nommers", Travisto says as he mentions hits such as Bill Withers Live at Carnegie Hall in his dad's vinyl collection.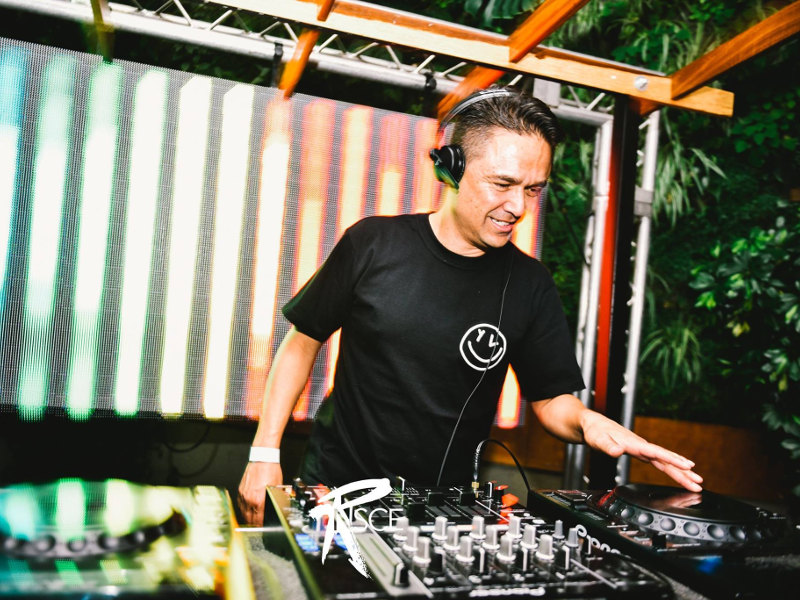 So where did the name 'Travisto' come from? Leo Manne - the music compiler at YFM at the time Travisto joined the station - is the originator of the name we fondly speak of today. "I know that by today's standards, the name sounds a bietjie magiciany, but my full name was always going to be too serious for the kinda [things] I would inevitably be catching on behind the decks." If he's not behind the decks or 'beerstalking', you can find him with a book in hand, reading and absorbing words and different perspectives. He says, "sometimes you have to get right out of your own head and immerse yourself deep into a whole different narrative. Reading and listening to music lets me do that at the drop of a hat." Travisto beautifully affirms that allowing someone else's narrative to influence your emotions can be cathartic. And as one does with words, "influencing the emotions of others by creating positive feedback loops with music is some powerful magic."
An avid raver and truth holder of Cape Town's clubbing scene, Travisto's memories of times past is enough to write a memoir on how the club scene correlated to Apartheid ending and sanctions lifted in South Africa. But that's a different article worth writing. He says, "big raves at the 3 Arts were my favourite - Diggers, Carl Cox, Sasha, Judge Jules, Paul Oakenfold - them. Pharcyde imported them all, and we chowed the Big Love Rave Dream for breakfast, lunch and supper." Hearing stories of how the Cape Town clubbing scene transpired in the 90s is something worth exploring. There lies a deep well of people of colour's stories and freedom in a segregated city. In my opinion, it can be equated to Britain's Thatcherism and the youth's revolt through Acid House Parties. Travisto says, "the rave hit us shortly after Apartheid ended, so we were giddy with the idea that we could choose to do anything. House music had chosen me in the 80s already at Cape Town's super club, The Space Odyssey, so in the 90s I chose to fucking dance. That shit shaped me. Jirree, it was bemangsterins."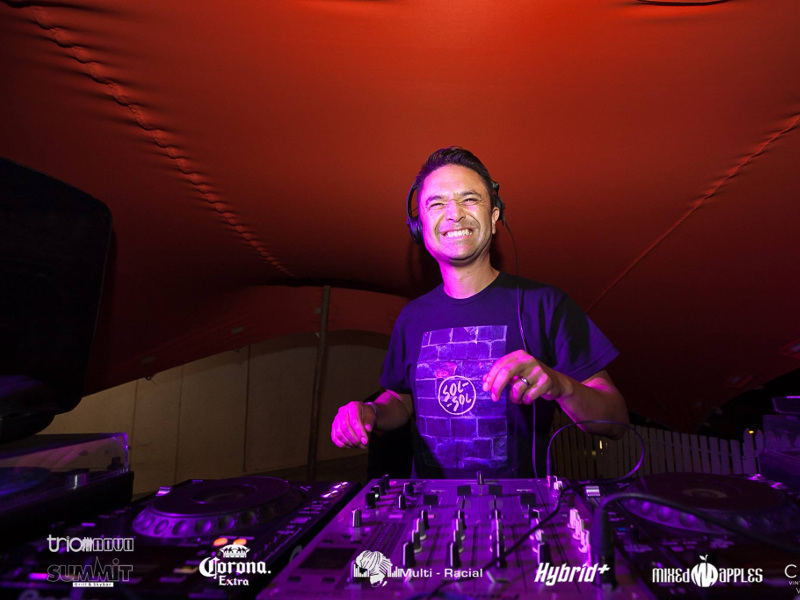 All who have a strong brewing love for House music in South Africa will know the name, Travisto. Hosting events in Johannesburg and Cape Town, it is hard to deny the impact this man is making in the lives of those who turn to House music for mindful cleansing and a good time. Travisto consciously shares his platform with young talented people. He mentions his Smiley partners (Wayne Dreyer and Rowan Roberts) and the steps they are taking to create opportunities for phenomenal South African DJs and Producers. "We make an effort to put on players who need a little kick up the pants to get them levelled up to where other promoters can see them. Same happens at The Friday Sundowner in Jozi and of course on #FuggitDrukaNommer." He notes that sometimes all it takes is social media meme hype and a personal word of encouragement to open a door for a fellow artist.
If you haven't heard of the famous FuggitDrukaNommer, where have you been hiding? You're forgiven this time. But make sure you're ready for a head and shoulder skit every Friday at 13:00 on The Eye Radio live on Facebook. This live stream has served as a space for friendships to be formed. Through his beautiful and authentic jovial nature, Travisto has connected people from places like Cape Town, Johannesburg to as far as Turkey and Australia. In the comment section, people can express their love and appreciation for fantastic House music. Have you ever seen a comment section with nothing but love and gratitude? You'll see heart emojis and "AUJs" flooding in as Travisto hits that cue button. It truly is a safe space and a moment to escape the traumas of Capitalism's 9 to 5 to which we are consciously unaware. Travisto passionately expresses, "you won't believe me if I tell you how many years I played music in that studio for and by myself, not caring if anyone else ever got to hear it. To now have an actual little community gathering online to talk kak and celebrate House music with me - what could be better than that?"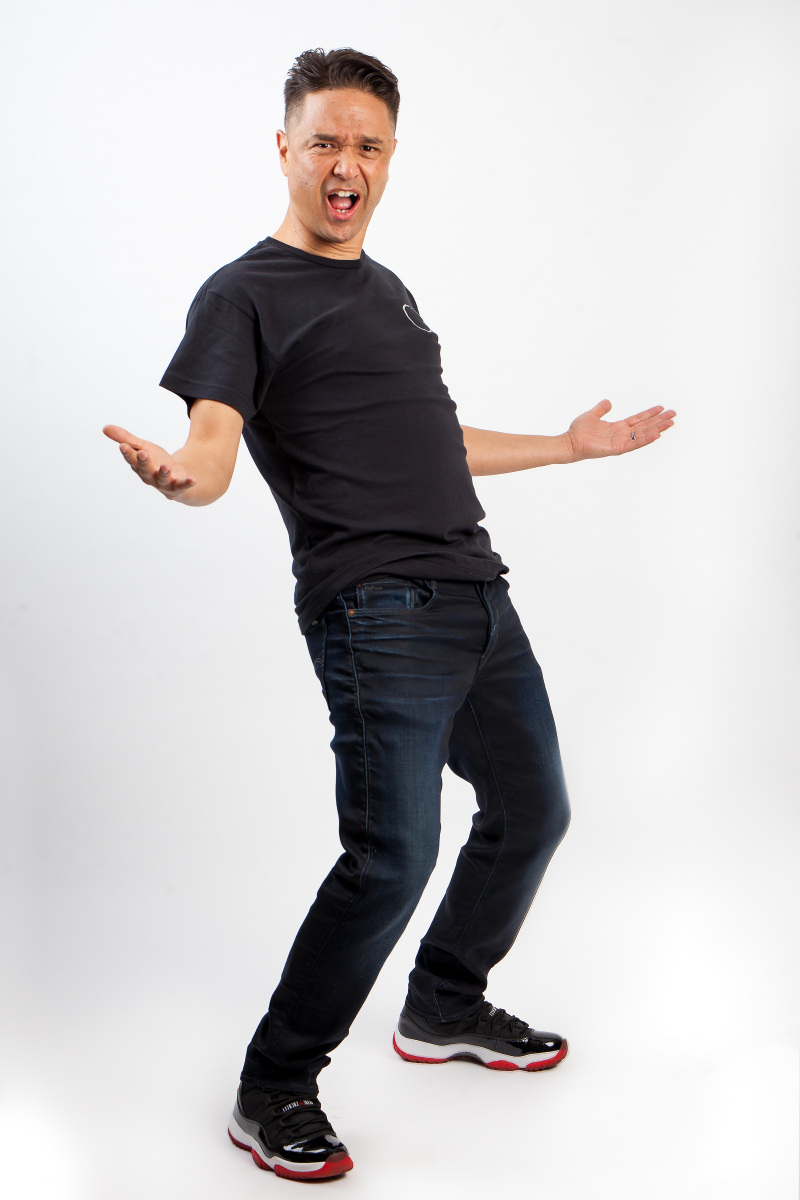 Travisto wholeheartedly enjoys returning to Cape Town and playing for his mense. "Sometimes, it feels like I'm dancing in the lounge of my 'eigenste' brah's house, and all my closest people are there soaking it up with me." As Ou Smiley returns to Cape Town on the 7th September 2019 at the Mash Tun 5.0, Travisto assures us that Alex Roman's koeksisters will be waiting on arrival as dancers two-step their way into Woodstock. "Can it even be a real Smiley if Alex Roman is not there with a moerse bak koeksisters? No, the answer to that question is no, and we ain't having no fake Smileys!" Come get happy and bring your mom's Tupperware for some Sunday morning koeksisters as you reminisce about the previous night's Smiley shenanigans.
Here are some lovely words from those who appreciate what Travisto has been doing in the South African House music community:
"First of all, I love him. He's supported me so much without any hesitation from not knowing each other at all just from connecting through fuggit. And I see it with other people as well, he is always ready to show support, whether it's playing someone's nommers or buying your stuff. He's fucking amazing honestly. Besides the nommers he druks watching him play is my favourite thing of all it's like watching a performance. And everyone that has ever seen him play or spoken to him or met him on the dancefloor will know he loves music and he breathes music. Seeing him feed off the crowd when he plays ma se. It's magical." - Alex Roman
"Travisto aka Travi Two Claps to me is someone who creates tangible energy. FuggitDrukaNommer & Ou Smiley have without a shadow of a doubt become a source of physical and mental relief. I, on the other hand, feel Travi's bemangde blends and basslines on a Friday are busy creating an unintentional dancefloor thesaurus for everyone in the comments section trying to gather themselves in the throw of the vuil beats being delivered. I am eternally grateful to be part of this movement that has become family to me." – Kay-Leigh Carelse
"A name that resonates with so many. Half man, Half nommers! When you speak of "The People's DJ" or even "Your DJ's favourite DJ" it's he who rings bells in your ears. A massive contributor and soldier for our local scene and a one time befokte human being!" – Ashwin Middleway (W.NN.E - Winnie Deep)
Add a comment